3. Myślenicki Bieg Uliczny
12. marca odbył się pierwszy bieg z cyklu Tour de Małopolska. Pogoda, jak zawsze w Myślenicach, w pierwszym momencie nie nastrajała do biegania – śnieg, trochę wiatru i zimno. Na starcie było już zdecydowanie lepiej – przestało padać, wiatr ustał, a temperatura stała się sprzymierzeńcem blisko 800 biegaczy. W połączeniu z odświeżonym, bardzo płaskim profilem trasy, zaowocowało to wieloma życiówkami.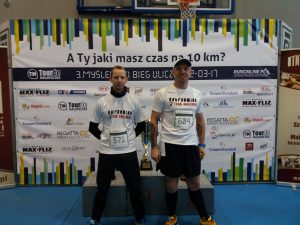 Ekipę ZTC może małą, ale za to bardzo silną i zmotywowaną, reprezentowali Grzegorz Słodki (naładowany mocą na treningach crossfit'u) i Michał Leszczyński (jak zawsze nie wierzący w swoje możliwości 😉 ). Zabrakło niestety twarzy myślenickiego biegu, Agaty Świętek, ale czasem trzeba odpuścić, by w przyszłości pokazać pełnie swoich możliwości.
Grzegorz 42:23, PB 189. open, 67. w kat. wiekowej
Michał 45:01, PB 299. open, 106. w kat. wiekowej
"Nagrodę specjalną" otrzymał również Marcin Kaliszka –  dyplom finishera zeszłorocznego cyklu Biegam w Małopolsce.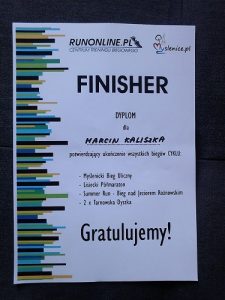 W najbliższą niedzielę zapraszamy na Półmaraton Marzanny, gdzie drużynę ZTC reprezentować będą Marcin i Marek Zychal. Jeszcze w marcu czeka nas pierwszy ze startów zaliczany do Korony Półmaratonów Polskich 2017 – Półmaraton Warszawski, w którym weźmie udział  Marek i Michał. A już 9. kwietnia zapraszamy wszystkich na drugi bieg cyklu Tour de Małopolska – Półmaraton Lisiecki. Oprócz tytułowego półmaratonu będzie możliwość sprawdzić się na krótszej, ale nie mniej malowniczej trasie – 5km.