Koniec zimy

19. marca miało miejsce otwarcie sezonu biegowego w Krakowie – już 14. edycja Półmaratonu Marzanny. Było bardzo wiosennie, ale i wietrznie, szczególnie na Błoniach, ale to już tradycja krakowskich biegów. Wyniki może niezbyt okazałe i nieodzwierciedlające pełni naszych możliwości, ale będące środkiem do tegorocznego celu – Cracovia Maratonu:
Michał 2:06:55, 2064. open, 794. w kat. wiekowej
Marcin 2:09:10, 2133. open, 827. w kat. wiekowej
Marek 2:26:08, 2332. open, 445. w kat. wiekowej.
12. Półmaraton Warszawski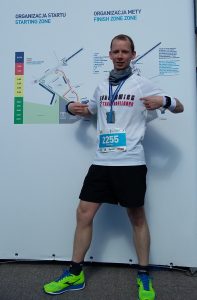 26. marca odbył się pierwszy półmaraton zaliczany do Korony Półmaratonów Polskich. Rano słoneczko nie mogło się zdecydować, czy pokazać się ponad 13-tysiącom biegaczy, co utrudniło decyzję o stroju i taktyce na bieg. Początkowe założenie startu pomiędzy strefami 1:50 a 1:55 i czekanie na rozwój wydarzeń można uznać za całkiem rozsądne. Wszystko jednak stało się jasne już na 3. kilometrze, kiedy słońce zdecydowało się wyjść na stałe i towarzyszyło biegaczom i tłumom kibiców do samego końca biegu. Jeśli chodzi o całą imprezę trzeba zaznaczyć świetną organizację stref dopingu, wśród których znalazła się nawet Orkiestra Reprezentacyjna Policji. Bardzo dobrze prowadzone było również zaplecze techniczne ze strefą depozytów, gdzie nie zauważyłem ani jednej kolejki. Co do samej trasy to rzeczywiście szybka, z niewielką ilością podbiegów, momentami może nawet "nudna", ale efekt był – czas 1:47:54 i życiówka poprawiona o 5:10 (3906. open, 1654. w kat. wiekowej).
Kolejny start na tym dystansie, a zarazem ostatnia szansa na długie wybieganie przed docelową imprezą tego roku, już 9 kwietnia – Półmaraton Lisiecki, na który serdecznie zapraszam.