Przyszedł czas na nasze kolejne spartańskie przygody. Na zakończenie sezonu wybraliśmy się razem z bratem do Taranto. Jest to malownicze miasteczko na południu Włoch z małym smaczkiem historycznym: w starożytności była to kolonia Spartan.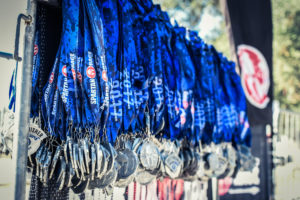 Od kilku sezonów Taranto gości najlepszych zawodników z całej Europy. W tym sezonie było to 4800 osób, razem z Wojtkiem i Agatą Pietroszek (najlepsza Polka) byliśmy skromną reprezentacją Polski na te zawody. Wystartowaliśmy na 3 różnych dystansach (Sprint, Super, Beast)
Oglądając materiały, wrzucane do Internetu przez zawodników z poprzednich lat, wiedzieliśmy, że będzie to bardzo szybki wyścig. Brak gór, tereny nadmorskie oraz część trasy prowadząca przez czynną Jednostkę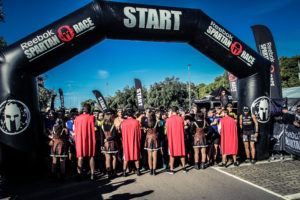 Wojskową – trasa zawsze jest tajemnicą, ale mogliśmy pospekulować i założyć kilka wariantów. Jednak jak to w spartanie zawsze są jakieś nowości i niespodzianki. W tajemnicy przed zawodnikami sprowadzono na te zawody przeszkody prosto z Wysp Brytyjskich, wcześniej niespotykane ani w Europie Zachodniej ani w Centralnej.  W myśl zasady im trudniej tym lepiej, pokonaliśmy wszystkie przeszkody bez rund karnych. Dało nam to życiowe wyniki, Agata wygrała kategorię Elite kobiet , natomiast ja z bratem byliśmy w ścisłej czołówce – miejsca w pierwszej 10 i pierwszej 20 Elity. Przegrywaliśmy tylko z zawodnikami, którzy parę miesięcy wcześniej walczyli w Mistrzostwach Świata i Europy, więc jesteśmy bardzo zadowoleni z takiego zakończenia sezonu.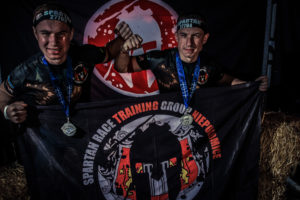 Teraz przygotowujemy się do zimowych spartan. Zapraszamy na treningi.
Po więcej zdjęć zapraszamy tutaj:
[foogallery id="4002″]
Autor tekstu: Paweł Siwek – trener SRTG Niepołomice