Krok po kroku zbliżamy się do końca sezonu, a co za tym
idzie zakończenia cyklu biegów Tour de Małopolska. Tym razem 3. I…TAKA Tarnowska Dyszka. Tradycyjnie ostatni bieg odbywa się na szybkiej trasie, jak sama nazwa mówi 10 kilometrów. Start znajdował się na terenie centrum handlowego Gemini Park, więc nie było żadnego problemu z zaparkowaniem samochodu. Odbiór pakietów również przebiegał bezproblemowo. Jedyne pytania przed biegiem dotyczyły pogody i ubioru, ale brak opadów i wychodzące zza mgły słońce pomogły w decyzji. Problemem był wiatr, ale po krótkiej rozgrzewce na parkingu przed startem, nie zwracając na niego uwagi ustawiliśmy się w swoich strefach startowych.
Jak już wcześniej pisałem trasa w gruncie rzeczy płaska i szeroka od samego początku. Jedyne podbiegi znajdowały się w okolicach 5 i 8 km. Suma wzniesień na całej trasie to 40m, więc trasa była również szybka, co pozwalało uzyskać bardzo dobre czasy. A jeśli chodzi o wyniki to ZTC w Tarnowie reprezentowali:
Michał Leszczyński 46:07, 277 OPEN,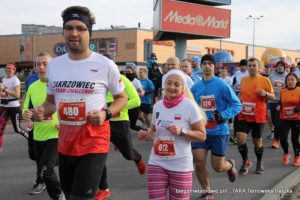 Marzena Jaszczak 53:02, 547 OPEN,
Marcin Kaliszka 53:20 560 OPEN,
Marek Zychal 53:42, 572 OPEN.

Miechowski Bieg Niepodległość
Tego samego dnia odbył się również Miechowski Bieg Niepodległość. W Lesie Strzyganiec znajdującym się w miejscowości Cisie, niedaleko Miechowa. Do wyboru były dwa dystanse 11 i 21km. Barłomiej Nowak wybrał oczywiście ten dłuższy, na którym uzyskał czas 1:52:06 i zajął 10 miejsce. Należy wziąć pod uwagę to, że był to bieg w dużej mierze terenowy, dlatego ten wynik jest bardzo dobry.
A już w ten weekend cała masa biegów z okazji Święta Niepodległości. Największym na pewno będzie Krakowski Bieg Niepodległości, w którym po raz pierwszy w barwach ZTC wystąpi Paweł Jachimczyk, a z grupy SRTG Kasia i Dawid Nawrot oraz Paweł Wójcik. Najwięcej "naszych" zawodników będzie na pewno podczas niepołomickiego 5. Biało-Czerwonego Biegu Niepodległości. Natomiast w na trasie ze Skawiny do Mogilan odbędzie się IV Górski Bieg Niepodległości. A dla wszystkich, którzy jeszcze się nie zdecydowali albo nie zdążyli się zapisać na żaden z ww. biegów zapraszam na niepodległościowy, 230. Parkrun.